For Immediate Release
Secrets of the Rainbow Bridge Launches Indiegogo Campaign for Epic Fantasy Book Series
Fantasy Books for Families by a Family
Redwood City, California—September, 18, 2014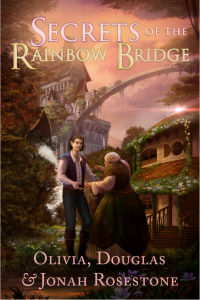 The idea for writing Secrets of the Rainbow Bridge, an epic fantasy series, came to the Rosestone family several years ago during one of the most difficult and challenging times in their life as a family. To get away from their problems, they went camping in the Sierra of Northern California. Near a small stream on a grassy knoll, the elves and faeries became their muses! They told the Rosestone's that they wanted their story to be told! At the end of the trip, the family went home and got right to work.
They all had day jobs, and worked on the book in whatever spare moments they had. For the first year, they designed their world. For another year, they created the story and the characters. After that, they spent six months staging the story, chapter by chapter. Then, they started writing. The series is intended for anyone between the ages of 12 and 85+.
The Indiegogo campaign for Secrets of the Rainbow Bridge launches Friday, September 19th and will run for sixty-days. The campaign seeks $20,000 of crowdfunding to help with the costs of printing, formatting, illustrating, and marketing as well as other publishing related expenses.
For more information about the Secrets of the Rainbow Bridge campaign on Indiegogo and to view the unique perks available to donors, visit the campaign page. (live on 9/19/14 @4 pm PT)
Contact:
Jonah Rosestone, Co-Author
Secrets of the Rainbow Bridge
Email: jr@sotrb.com
Read more about the campaign and meet the book's fanciful characters.
PRESS RELEASE: SECRETS OF THE RAINBOW BRIDGE LAUNCHES INDIEGOGO CAMPAIGN